Läser lite kring protesterna mot VM i Brasilien och om situationen där i stort, och noterar:
* Tunnelbanearbetarna i  São Paulo strejkar (vilt) sedan en vecka tillbaka. FIFA saknar en Plan B för hur publik och arbetare ska ta sig till den nybyggda Itaquera-stadion, där inledningsmatchen mot Kroatien spelas ikväll.
* Från början av detta dygn så togs även flygplatsarbetarna i Rio de Janeiro ut i strejk.
* De där luftvärnsraketerna som FIFA krävt att man installerat kring Maracana-stadion i Rio de Janeiro för att hålla koll på buset under VM, vilka är det som levererat dem?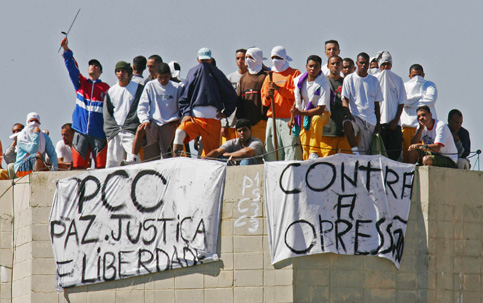 * PCC och Comando Vermelho, de dominerande krimkonstellationerna i São Paulo respektive Rio de Janeiro, hotar med att skapa kaos under VM. Senast PCC kickade en sån grej, 2006 var det, så var det undantagstillstånd och fängelseupplopp och attacker på polisstationeroch och brända bussar och typ hundra snutar och vakter som miste livet. Med den stora närvaron av utländska turister och journalister så kan det här bli riktigt kletigt.
* Ni kanske minns demonstranten från förra året som med en sträckt vrist skickade tillbaks en tårgasbehållare till motståndarlaget? Priset för bäst stil i år går till ursprungsbefolkningen som revolutionerade kravallmodet med spjut och pilbåge och fick kavalleriet att backa. Tok lyckades t.o.m. träffa en polis i benet.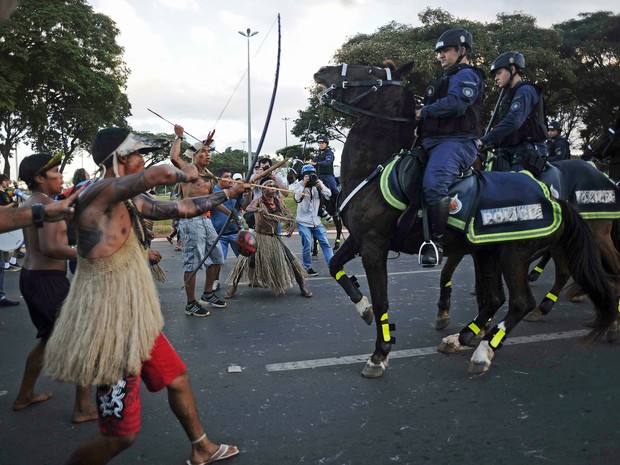 * Den här hemsidan ger siffrorna kring samhällsproblet som den briljanta Tropa de Elite 2 uppmärksammade; att miliser bestånde av aktiva och före detta poliser tar över allt fler områden i Rio de Janeiros slum. "The militias took care of the sales of gas cylinders, the 'gatonet' (catnet, the clandestine cable TV) and they went on expanding until they were able to control every real estate transaction in the favelas they occupy. It is big business, which can pay even more than drug trafficking." 2005 så kontrollerades 10% av stadens mest våldsamma områden av dessa miliser och 53% av Comando Vermelho. Fyra år senare var siffrorna 41% för miliserna och 40% för CV. Upprensningen inför VM, med detta att militären ockuperar favelor och en lågavlönad och ökänt korrupt poliskår sedan träder in i den bortjagade kokaingerillans maktvakum, spär självfallet på problemet. Gissningsvis utgör dessa miliser en del av en övergångsfas inom brasiliansk krim – från skjutglada kokaingerillor till klandestina maktnätverk av syditaliensk snitt.
* I år är det femtio år sedan den militärkuppen i Brasilien. De nya anti-protestlagarna tar oss tillbaks i tiden, men risken för en ny kupp ska inte överdrivas, då den nuvarande socialdemokratiska regimens kompromissvillighet och kapitalvänlighet garanterar att högern inte gråter alltför högljutt.
* Men på riktigt, fuck ett VM; vem bryr sig egentligen om det där spektaklet när det finns Superettan?